Walk-In Bath Tubs For Safety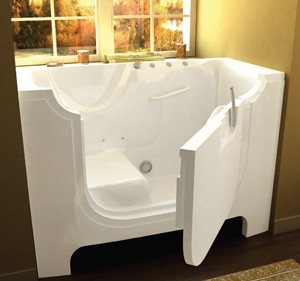 Bathroom accessibility modifications and products, such as a walk-in bath tub allows you to continue enjoying your home as you age-in-place, recover from an injury, or maintain an active lifestyle. Bath Fixers of La Crosse can show you many designs and products that are ADA compliant with 17″ high contoured seats to provide you with a comfortable bathing experience. Low-entry risers are incorporated into these designs, as well as built-in easy-grab bars to ensure safety.Slip resistant floors are standard in all our bathing units to increase your safety when entering and exiting the bath.
Quickly and Easily Convert Your Existing Bath Tub
Professional installation is included in our price for converting your current bath tub to a walk-in solution. Installation takes about a day and your new walk-in bath tub can be used as soon as 24 hours after we complete our work.  Our walk-in bath tubs are the perfect solution to providing a safe environment in your home's bath for parents, elderly guests or if you have an injury. We do have options for those of you that enjoy "DIY" – ask us!. 
You May Also Be Interested In
Features & Benefits
Wide opening doors
ADA-compliant seats
Built-in grab bars
Wheelchair transfer accessibility
Usable as a stand up shower
Hydro therapy and air therapy available
Do-it-yourself options are available