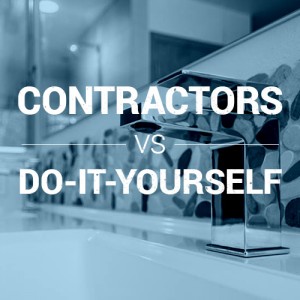 According to Realtor.com, a homeowner with a properly executed bathroom renovation can expect to recoup up to 63.6 percent of the expense of remodeling when they sell the home making bathrooms a popular renovation. With master bathroom remodels averaging between $10,000 and $20,000, you may be tempted to reduce the cost by doing the work yourself, but the headache you will endure just isn't worth it in the long run. Hiring a remodeling professional simplifies the renovation process from beginning to end and makes the best use of your valuable resources.
You will have an army of professional staff at your disposal.
A professional contractor is more than a single individual. From office staff like receptionists and accounting professional to field staff such as estimators and carpenters, you will have a number of people ready to assist you with every aspect of your renovation. Whether you have a question about the billing or a simple request for a change in fixtures, you can rest assured that there is a specialist dedicated to serving you.
A professional contractor will help you avoid costly mistakes.
Most remodeling mistakes are caused by inexperience such as ordering too many or too few materials, installing the wrong type of materials for the space, and skipping critical steps in the remodeling process. For instance, skipping something as small as installing a bathroom fan can have disastrous consequences down the road as moisture causes mildew and destroys your hard work. At Bath Fixer, we have decades of experience that allow us to avoid these costly mistakes.
Realistic estimates of expenses ahead of time.
One of the most common errors in remodeling projects is trying to make a tight budget stretch too far. You hear stories of homeowners with an initial budget of $5,000 who end up spending $20,000. At Bath Fixer, we alleviate budgeting woes with our guaranteed installed price. We guarantee that the price we estimate is the price you will pay. We will not provide artificially low quote to get your business only to charge you more in the end. If our initial estimate isn't in line with your expectations, we can work with you to adjust the scope of work to better fit your financial needs.
You will save your most precious resource.
In economics 101, you learn the basic principle of opportunity cost. Simply put, the resources you invest in one project cannot be used elsewhere. We don't always think of it this way, but our time is among our most valuable resources. Hiring a professional contractor will save you time, allowing you to spend your weekends on other projects, with your family, or getting some valuable rest. At Bath Fixer, our installation dates are set in stone so that you can enjoy your free time with peace of mind that the job will be done right and on time.
At Bath Fixer, we put our customers first and our customer testimonials prove it. Give us a call today to discuss all your bathroom remodeling needs and we will send a member of our trusted, knowledgeable staff to get you started on the path to your dream bathroom.
Source
http://www.nkba.org/Learn/Homeowners/Tips/Remodeling/RealWorldBudgetingForBathroomRemodeling.aspx