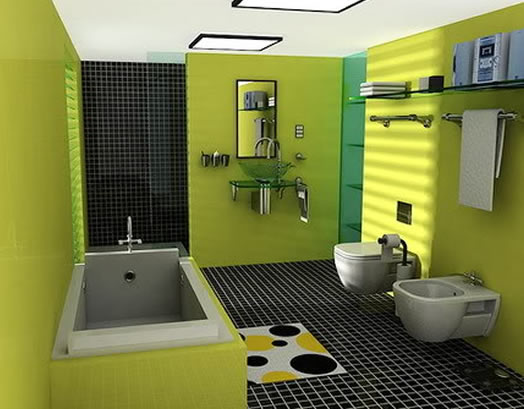 One important thing to keep in mind when you're remodeling your bathroom is how it will impact the value of your home.  Even though you might think that you'll live in your home forever, you never know what circumstances might come along and change that.  It is important when thinking about remodeling your bathroom to design it in a way that fits your taste, but also increases the value of your home for potential buyers.  It is easy to ignore how your taste can possibly devalue your home depending on how extreme your taste is.  For example, you might want an all lime green themed bathroom for some reason, but if you are set on this being the theme of your bathroom there are ways to design it so you can get what you want while still increasing the value of your home.  You could design it to have lime green colors utilized in the replaceable aspects of the bathroom (towels, light fixtures, floor mats, etc), so if you ever decide to sell your house perspective buyers can easily change the bathroom to fit their taste while still having the upgrades you made.  It is important for them to have a "blank canvas" to start with so try to make permanent fixtures like showers and tubs as neutral as possible.  One good idea for bathroom renovations that is good for you and potential buyers is to make the space bigger.  If you can afford to take some space from an adjoining room that might be a good idea because that is going to make the space much better for you and dramatically increase the home value for someone else.  If you don't have this option, strategically placing mirrors or windows in the bathroom can make the space seem bigger and more open.Another thing to keep in mind when it comes to increasing the value of your home with a bathroom remodel is the market value of your home. If you do a remodel with granite counter tops, a Jacuzzi tub, and heated tile floors, but you live in a starter home you probably won't increase the value of your home proportionally to the money you invested in the remodel. Check out this HGTV link (http://ow.ly/fgfjc) for the latest bathroom remodeling trends and ways to get what you want from your remodeling project while increasing the value of your home. One of the growing trends people are looking for in bathrooms is how economical it is. People are getting more conscious about the environment and want to save water with environmentally friendly toilets and showers.  This also saves money for them because they aren't using as much water.
One affordable way you can upgrade your bathtub is to have a company like Bath Fixer install a custom fit tub liner to go over your old tub (pictured below). This gives the look of a brand new bathtub without having to spend the big bucks on a totally new one. Not only do these bathtub liners look great but they are extremely easy to clean.
In the end, you want to create a bathroom that reflects your personal taste and one that you're happy to spend time in every day. But there are smart ways to do this so you get what you want while increasing the value of your home if you ever decide to sell.