When buying or redecorating a home, finding a style that fits you can be overwhelming. With so many trendy items and colors to choose from, even the little decisions can have your head swimming. However, considering a timeless look to make your bathroom stylish can save later headaches and that "what was I thinking?" feeling. Creating this type of design gives your bathroom added appeal and turns it into a relaxing place to soak in your tub or get yourself ready for the day. Even if you have a limited budget, there are plenty of affordable bathroom decorating ideas to consider.
Neutral Colors Create a Backdrop for Trendy Accessories
Neutral colors, especially lighter ones, are ideal for a timeless look. White, in particular, gives bathrooms a clean, elegant look. If your bathroom already has a white sink, tub and toilet, you can introduce more white inexpensively by painting the walls and purchasing white accessories, such as a toothbrush holder or hand soap dispenser.
For a touch of contrast, add a classic color, such as navy or dark green, which both pair well with white and other light neutral shades. Choosing towels and washcloths or an area rug in one of these colors is another affordable way to create timeless appeal, and you can always switch to another trendy shade to change things up from time to time.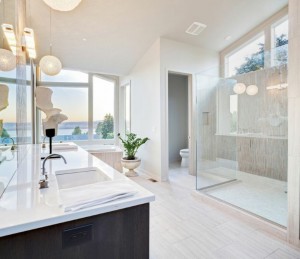 White walls, decor and fixtures create instant appeal that will last for decades.
Clean Lines Keep Your Bathroom Simple and Beautiful
Timeless bathrooms are filled with clean lines that give these rooms a streamlined, functional appearance. If a sleek new tub and sink don't fit your budget, focus on bringing in this timeless element through other means. Keep things neat and minimal in terms of design. For example, place a simple vase of flowers on your counter, rather than adding a few knick-knacks or having large decorative vases on the floor. Add a square framed mirror over the sink to add clean, angular lines to the room. If a new framed mirror isn't in your budget, cutting crown molding to create a custom frame is a great alternative.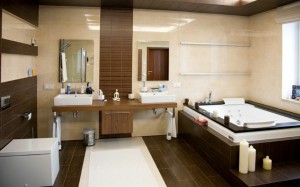 Sleek, clean lines provide bathrooms with a timeless look.
Natural Materials Add Elegance and Style
Natural materials, such as wood, also give bathrooms a timeless quality. Darker wood tones provide an elegant, classic look that works well with neutral tones. You don't have to replace your fixtures to achieve this look. Instead, refinish your wood vanity in a darker tone, add one or two small framed works of art, or a vanity mirror with a dark wood frame if you don't have a wood vanity.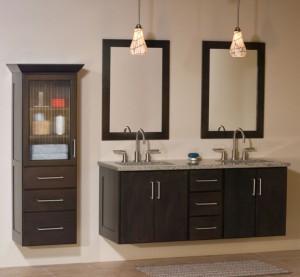 Dark wood tones create a classic contrast with white.