One of the reasons that organizing a bathroom can be so difficult is that nothing really goes well with anything else. You can't stack toothpaste on top of an aspirin bottle that's resting on a hair brush. So what do you do when you can stack things like soup cans? You do what HGTV calls "micro-organizing."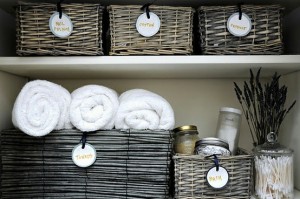 Group things into appropriate containers and then find a place for those containers. Containers that are clear will be much more useful because you can easily look and find what you need. Be aware of the word "micro" organizing. Don't put too many things into a container, because you'll just end up right back where you started.
Bathrooms are notoriously small, so you may feel you have no space. Simple solution: Make space. There's no shortage of DIY shelves out there that are easy to put up by yourself. Remember you can always go vertical and use up bare wall space. There are also many things that a professional bathroom remodeler can do. There's always a room for a usable cabinet built into the walls. You can also find new ways to make extra space in the cabinets that already exist with creative shelving and spacing.
Consider going to a craft store and purchasing matching bottles and containers. Not only will it look nicer, you can easily put soaps and lotions into similar bottles and make your organization much easier.
The moral of the story is… no matter how little space you think you have, there's ALWAYS a way to find more.