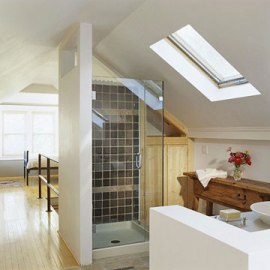 What do the Beatles and the Brady Bunch have in common? Admittedly, not much, but both thought highly enough of the sun to release records about it. Even if you don't find yourself singing about the sun, your body and home can benefit hugely from its rays. Studies repeatedly show its potent positive effects on mental prowess and mental health. That's largely why homes with ample natural lighting tend to be more popular with buyers: They just feel better.
For a period in the not-so-distant decades behind us, windows were decreasingly seen as vital to bathrooms. The death of the once-ubiquitous bathroom window was most like a casualty of innovations in bathroom ventilation. Somewhere along the way, people forgot that bathroom windows provide the best daytime lighting money can buy. Then the designers took note and reintroduced it. These days rarely do you see a model bathroom photographed without some natural light.
If you live in a home with a window-less bathroom, you may not have the option to add an afterthought window (depending on your bathroom's location), but you almost always have the option to add a skylight. Skylights come in all manner of shapes and sizes, from the standard rectangle to ovals, diamonds, and even multi-sided configurations. Some can be opened for ventilation, which is great for releasing the hot air that naturally accumulates near the ceiling of all rooms but bathrooms in particular.
If you're interested in adding a skylight to your bathroom, here are some basic tips:
Energy-Star rated skylights are your best bet.
In rooms with many windows, choose a skylight size no more than 5 percent of the floor area.
In rooms with few or no windows, choose a skylight no more than 15% of the room's total floor area.
Skylights rated R-4 or greater for thermal efficiency are less prone to condensation problems.
Plastic skylights are more affordable, but glass is more durable and won't discolor.
Heat gain can be an issue, but there are many ways to reduce it, from materials used to shape and placement of the actual skylight.
Leaks are a common problem for do-it-yourselfers who undertake skylight installation.
Your bathroom is where you both prep and unwind from your day. For both reasons, it's important to think about adding natural light if you haven't already. Skylights produce a contemporary ambiance, boost your mental state, and can be installed in no time by a professional builder. They make for one of the quickest bathroom makeovers in the book. Here comes the sun!