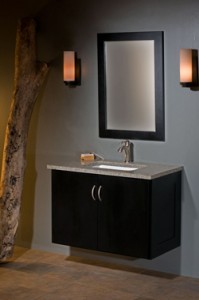 Which room is the first you see in your house? Did you say your foyer? Your living room? Didn't you mean to say bathroom? We're talking the first room you see in your house—every day when you first get out of bed. Because it's the first room that greets you, your bathroom should be a space that puts you in a positive state of mind. We're talking a space that gives your qi some TLC. That doesn't happen in cluttered, disorganized, or woefully dated bathrooms. Here are some suggestion for making the first room you see one that's good for you qi:
Choose feel-good colors. Soft colors in white, blue, or green evoke a sense of calm. Bright colors create a sense of whimsy and fun. Deep, dark, rich colors feel sexy and strong. Try to stick to one or two colors for larger surfaces on your bathroom, plus an additional color for accents.
Bring nature indoors. Include green plants and hardwoods, which have the soothing aesthetic of the outdoors. Green plants are also excellent for providing an accent color. Those that can be hung from the ceiling add visual interest by using some of the bathroom's vertical space.
Have a dimmer switch. A dimmer switch isn't great only for nighttime bubble baths. It's also great for people who rise before the sun and would like to give their mind (and eyes) a more gradual adjustment to waking as they transition out of bed at zero-dark-thirty. Be sure you also have a bright light source. It's frustrating to get ready in front of a dimly lit mirror.
Get organized. No, seriously. It's time. Clutter is to the mind as it is to your countertop: distracting and obstructive. Toss out old products. Add dividers or other organizing tools to your drawers and cabinets. Make sure you have plenty of towel hooks and racks. Hang a second medicine cabinet if need be.
Include soothing smells. Fragrances are powerful mood-shapers. For a calming effect, try lavender or vanilla. For invigoration, look to citrus fragrances. Make sure the scents are subtle, not overwhelming. Also, don't use scented candles in the morning. In your rush to get ready, you don't want to have to remember to blow out any flames.
Include soothing sounds. Sound is just as important as smell when it comes to setting a mood. Cacophony equals stress. Try soft music or incorporating a small countertop fountain for the soothing sound of water trickling.
Add accents that inspire you. Feed your brain happy thoughts by displaying images or words that lift your spirit. Frame that favorite picture of someone you love or that quote that you find particularly inspiring. Place these near the mirror where you get ready.
The old saying "woke up on the wrong side of the bed" is about getting off to a surly start to your day. To avoid it, maybe you should wake up to the right kind of bathroom.