In our do-it-yourself world of home decorating, it's easy to unintentionally fumble the ball while doing a bathroom makeover.  Many things can be done on your own, but there are some simple mistakes people make in bathroom decorating and we can help you avoid them.
It may seem amazing, but people often forget about curtains on their windows.  If keeping a creepy neighbor from peeping isn't a compelling enough reason, consider that curtains and window treatments are the accents that bring any room décor together.  That includes the bathroom.
Dark bathrooms are a decorating no-no!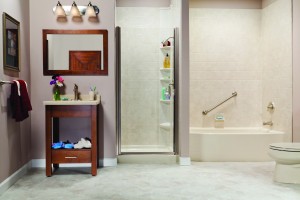 While those deep rich colors may work for a living room or den, closed in spaces tend to look smaller.  Keep your bathroom bright!
There's a similar rule of thumb when it comes to busy patterns.  Funky wallpaper might work well in the kitchen, but in a tight space like a bathroom it tends to become overwhelming.  Clean lines and lighter colors are winners for bathrooms.
Spend a little time thinking about the lighting, too!
You're going to be spending plenty of time looking at yourself in the mirror getting ready for your day… the light should be full, and natural.
Don't forget about storage!
The bathroom tends to be the repository for everybody's medicine, makeup, and hairbrushes.  Towels alone are bulky and take up space.  Begin with storage in mind, and design around.
If you get stuck and want some professional help, we are always a click or a phone call away.  Happy decorationg!