In the '60s, it was chrome. In the '80s, it was brass. And for a long time now, it's been brushed nickel. Hardware finishes really do make a significant impact on the look and feel of a room. That, guys, is why some women can spend 45 minutes surveying the selection of doorknobs at the hardware store before settling on one. They get that the doorknob—and the drawer pulls and the towel hooks and the faucets—are the punctuation in a room. These things pull the design together.
One finish that's come to the fore over the past decade or so is oil-rubbed bronze. The nice thing about oil-rubbed bronze is that, design-wise, it can be more easily combined with other metal finishes. Chrome with brass? Nope. Brass with nickel? Nope. But oil-rubbed bronze is nearly black, a neutral tone that plays well with other finishes.
These days you'll see oil-rubbed bronze on everything from door handles to sink faucets, but for some reason, people don't often think to use it is on the shower-door trim. (In fact, people often forget to give the metal trim on the shower much consideration at all.) We want to show you how great it can look. Oil-rubbed bronze on shower doors has a sort of—what should we say?—sex appeal about it. It's great for those who want to steer clear of airy, feminine designs and instead go for something rich and sultry.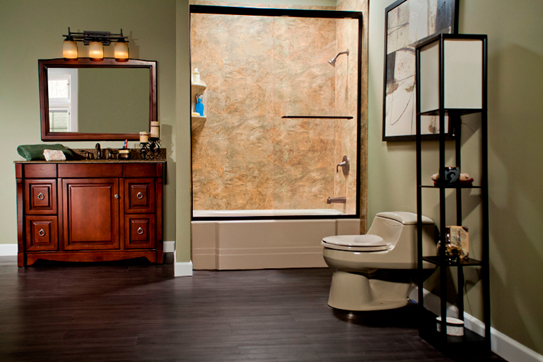 Notice the brushed-nickel finish of the shower head and faucet? Like we said, bronze plays well with others, and it creates a nice contrast against the white porcelain of the tub. Makes the space look sort of black-tie sharp, doesn't it? Bronze does require a different cleaning regimen than other finishes but nothing back-breaking or expensive, just different. If you're interested in seeing more ideas for using it in and around your shower, give us a call. We'll show you what's possible!