Crisp linens, spot-free fixtures, and extra toilet paper are just a start to having a guest-friendly bathroom. No matter if they're your family, friends, or acquaintances, typical guests feel at least a little stress for the simple fact that…they're guests! They don't want to disturb your possessions or routines too much. They don't have their own creature comforts. When you prep a guest bathroom for a visitor, keep that stress in mind. Here are some ways to provide a bath atmosphere that puts your guests at ease.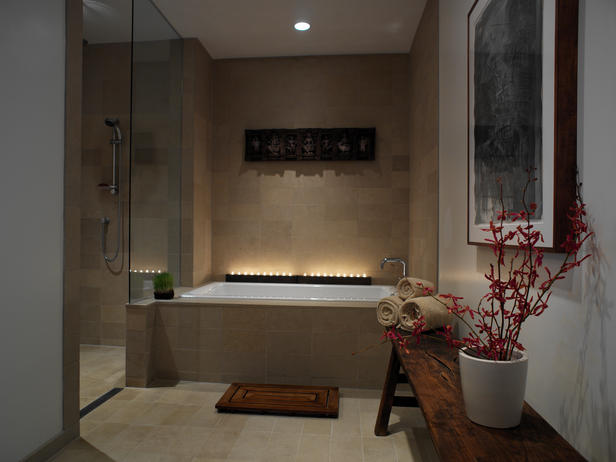 The Zen Treatment
Countertops should be free of clutter, offering hand soap and hand lotion in simple bottles, preferably clear so that guests can see what's inside.
Bathtub should have a small black or wooden tray of aromatherapy candles, tea lights, and/or bath oils in calming scents, such as cedarwood, chamomile, lavender, or lemongrass.
Towels, including hand towels, should be fluffy, white, rolled or folded, and not hung on hooks.
Lighting should be warm, come from more than one source (including a candle or two), and offer a wide range of brightness. A dimmer switch is a must.
Finishing touches should be minimalist, such as a single orchid in a simple vase, two or three smooth rocks neatly stacked and balanced, or a tub-side wooden box and spoon with bath salts.
Other details to pull it together: bamboo, a small green plant, and touches of the color black.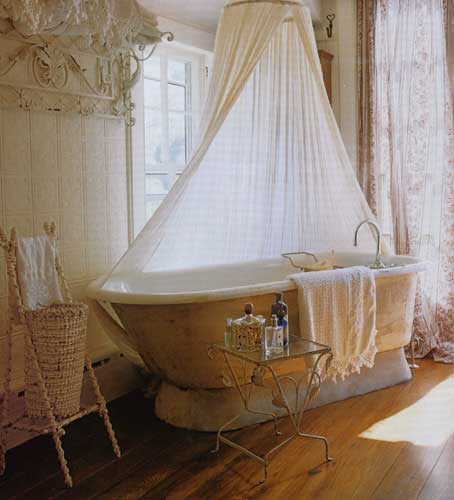 The Bed and Breakfast Treatment
Countertops should offer a luscious variety of soaps, including liquid hand soaps in porcelain or glass bottles, and handmade soaps in both masculine and feminine scents. Place these in a pretty basket or antique bowl.
The bathtub should have a selection of easy-to-reach reading materials and a basket or tray of washcloths and scented bath salts, bubble baths, bath oils, and small wrapped bar soaps.
Towels, including hand towels, should be fluffy, white, and draped for display. Try lace-trim or ribbon-trim bath towels and crocheted hand-towels.
Lighting should be soft white and include a candle or two. Use a candelabra for the main light, and sconces for mirror lighting. Soften sunlight with sheer curtains.
Finishing touches should be feminine and splendid, such as a bird cage repurposed as a planter, a real rug with a pretty floral design (instead of a bath mat), or a bath-side bowl of rose petals.
Elements to pull it together: fresh-cut flowers, lace, scrollwork, touches of soft pastels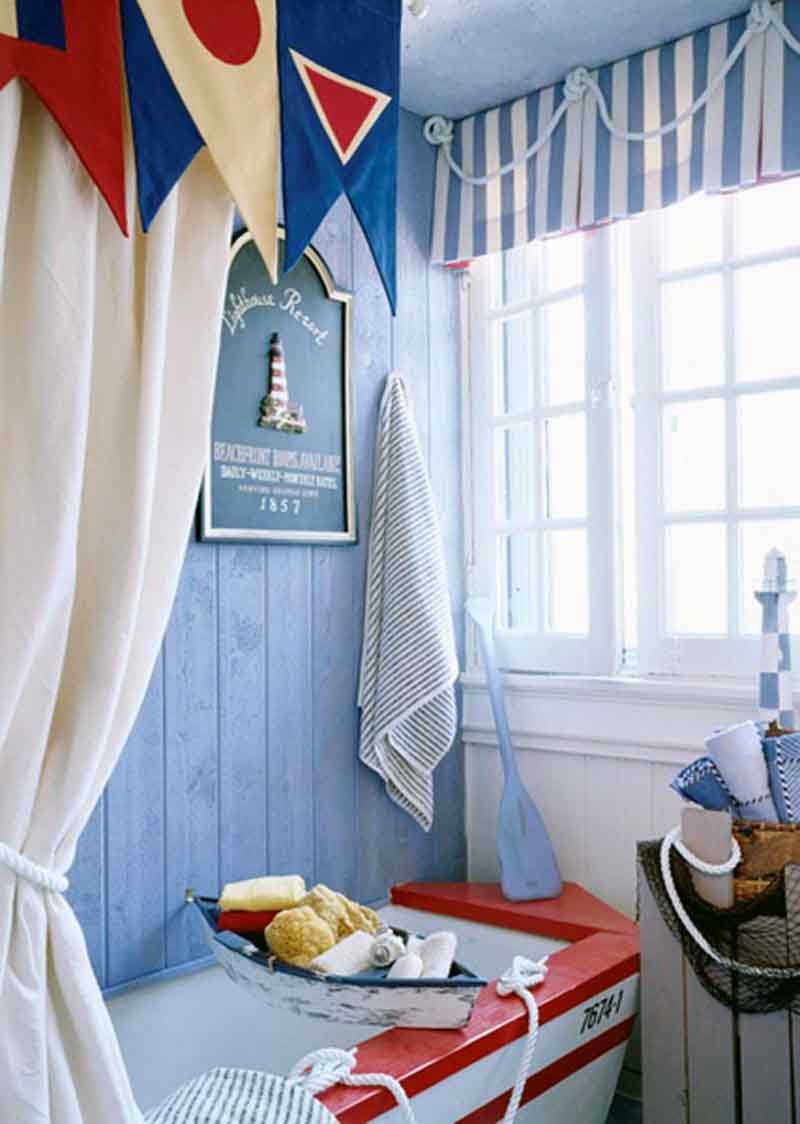 The Funhouse Treatment (for Guests with Kids!)
Countertops should offer up orderly whimsy, including a dish full of fun novelty soaps (e.g., Etsy is teeming with them), disposable paper cups, and ample washcloths and hand towels, and an obvious/handy place to toss these after use.
Bathtub should have dye- and fragrance-free bubble baths that kids and their parents can enjoy, a few timeless imaginative-play toys that can be handled roughly (think a simple boat and a rainbow of rubber duckies, which can look pretty but also be played with), and an easy way for kids to access and stow shampoo bottles, bubble baths, and the like.
Towels should be mix-and-match—colors that look happy together, whether you use the whole rainbow or not. The point is to not leave guests feeling like the towels have to be displayed just so when not in use. Have lots of towel hooks, including some at shorter heights for little people.
Lighting should be bright for the kids but have a dimmer switch for mom and dad.
Finishing touches should include items such as quirky framed illustrations or photos, a fun bath mat, and a funky little tchotchke or two (don't go overboard). Don't go too childish by, for example, using character themes. Parents need to be able to unwind in here, too!
Elements to pull it together: splashes of bright color, fuzzy and soft fabrics. Think fun, not garish.
There are a few other important things to keep in mind for your guest bathroom regardless of what kind of retreat you make it: Keep the toilet seat shut. Make sure guests can easily find extra toilet paper rolls. Stow a small plunger where they can easily find it. Provide a lighter or matches for candles. Pull together a small kit of bathroom necessities, including a disposable razor and extra toothbrush and toothpaste, and place it in clear view. If you have the room, provide a chair in the bathroom. Towel warmers make everyone happy. Fluffy slippers and bath robes are an awesome extra touch!