Did you know that Beyonce owns a bathtub completed caked in Swarovski pink crystals? Not everyone can afford—or wants—opulence to make their bathroom stand out. Fortunately, giving a bathroom that extra oomph can often be achieved with little and far less costly things: some wood detailing on a faucet, a strip of colorful glass mosaic through shower floor, a scalloped mirror. In fact, we'd argue that it's often the little things that upgrade a bathroom. One of our favorite "little things" is the wine-glass shelf.
When we say "wine-glass shelf," we're talking about an architectural element you can add to your tub surround. It's basically just a ledge you can reach from the comfort of your tub-soak. It can be recessed into the wall or protrude from the wall, like so:
Some clients get a chuckle out of the slang name "wine-glass shelf," especially those who don't imbibe in the bathtub. But you shouldn't let the name fool you. As you can see, the shelf can be used for all manner of things you'd like to keep close at hand while you bathe: candles, soap dishes, extra linens, books, bubble baths, and more. Keep in mind that these shelves don't have to go on the side of the tub. They can also go at the foot or the head of it.
One more thing: The wine-glass shelf isn't just for adding oomph and shelving during a bath remodel. It can also help resolve issues that arise when the footprint of a new tub is smaller than the footprint of the tub/surround it's replacing. Take a look at this: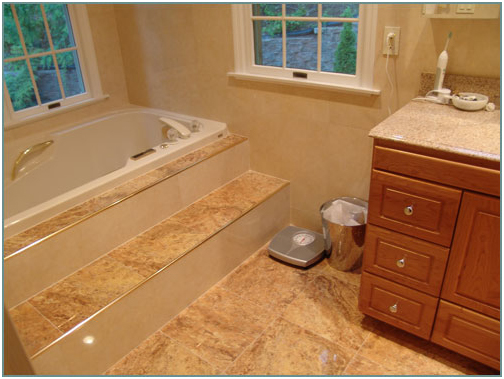 Who wants to navigate a ceramic-tiled ledge with their bare, wet feet? People who like to go to the emergency room, that's who! A great bath remodeling solution here would be to build out the wall just under the window into—you guessed it—a wine-glass shelf. The tub would then be inched forward so that it's situated where those dangerous steps used to be.
At Bath Fixer, we're always ready to help you come up with creative, attractive, and practical solutions just like this one. Give us a call when you're ready to explore what's possible!