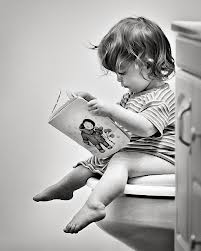 We recently blogged about why you shouldn't keep reading materials out in the open in your bathroom. Yet we also blogged about making your bathroom a relaxation sanctuary. For a lot of people, relaxation and reading go hand in hand. We didn't mean to be party poopers, and we do know the bathroom is a popular reading area, whether it's a spa-like atmosphere or not.  Why else would there be a whole genre of books called "bathroom readers"? That's why we suggested keeping a stock of bathroom reading materials in an enclosed case within easy reach.  Here's a list of some interesting "bathroom readers" to put in that case:
The Book of General Ignorance by John Mitchinson. A witty compendium of how much we really don't know—or really get wrong. First in a series.
Why Do Men Have Nipples? Hundreds of Questions You'd Only Ask a Doctor after Your Third Martini by Mark Lehner and Billy Goldberg. The title says it all.
The Greatest Stories Never Told: 100 Tales from History to Astonish, Bewilder, and Stupefy by Rick Beyer. A fun collection of surprising historical oddities that will help you conquer the cocktail party.
P.S. I Hate It Here: Kids' Letters from Camp by Diane Falanga. Actual excerpts from actual letters will remind you why you really don't want to go back to summer camp.
Tiny Beautiful Things: Advice on Love and Life from Dear Sugar by Cheryl Strayed. With humor, insight, and compassion, online advice columnist turned bestselling author tells how to deal with whatever life throws at you.
Big Questions from Little People: and Simple Answers from Great Minds by Gemma Elwin Harris. Real questions from precocious school children, answered by real experts in the fields they concern.
Things Go Wrong for Me by Rodney LaCroix. Written by a 5'3" politically incorrect humorist daddy-blogger, a funny little collection of funny little things happening to a funny little guy
Return of the Dittos by Dale Andrew White. A collection of weird, witty, and outrageous short stories that you never would have thought up yourself.
The Glory of Their Times: The Story of the Early Days of Baseball Told by the Men Who Played It by Lawrence S. Ritter. A captivating compilation of reminiscences of old-time baseball players, pieced together as narrative.
Unlikely Friendships: 47 Remarkable Stories from the Animal Kingdom by Jennifer Holland. Sweet pictures and fascinating tales of friendships between animals that wouldn't make any sense at all if you were looking at the food chain.