There's no denying it: Glass shower doors can really beautify a bathroom. They allow in ambient light, and they make a room feel more spacious and open. They just look upscale. But did you know they can spontaneously shatter? A quick search on the internet turns up a fair amount of stories about people who got a surprise shower of glass instead of water while lathering up in the shower.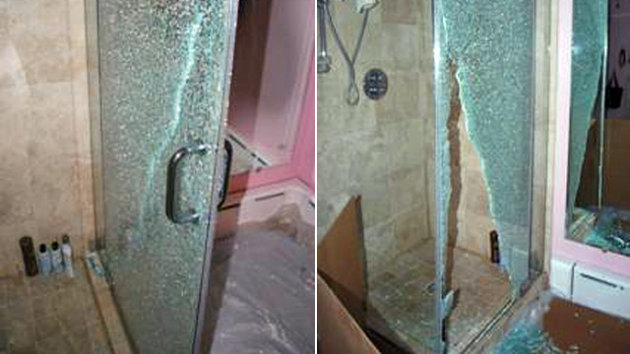 Fortunately, glass shower doors are made from tempered glass like the glass used for your car's windows. This means that it's harder to shatter and that it doesn't produce the razor-edged fragments that regular glass produces when broken. No, it basically crumbles into a zillion little pieces. We can't find any record of shattered glass shower doors causing life-threatening bathroom injuries. The pieces can, however, lacerate the skin superficially, not to mention scare the "bejesus" out of you.
Here's what happens: Tempered glass is created through a heating process that changes its tensile strength (the amount of stretching or pulling the material can take before breaking). The resulting glass is much stronger and more impact-resistant. However, it's less able to withstand side impact. So, think about it: If a glass door is installed incorrectly, perhaps not quite steady on its track, it could be a ticking time bomb. What if the hardware—such as the wheels, rubber stoppers, or the runner—breaks? Yes, your door might be more susceptible to shattering.
It's not time to run out screaming that the sky (or your shower door) is falling. It's just a good idea to be doubly cautious about the installation of your glass shower door, as well as about checking it periodically to ensure that all the parts are secure and in good working condition. Don't let fasteners on the door become loose. Make sure that any moving glass panels have rubber bumpers to prevent them the panels from making contact with the wall or any metal during operation. Inspect the glass regularly for signs of damage, especially around the hardware. Never support your weight on the door's hardware when, for example, lifting, lowering, or balancing your body.
Last but not least, for obvious reasons now, you probably don't want a glass shower door in bathrooms that are used by children or the elderly. It's just one less safety hazard to worry about for the young and old loved ones in your life!